The last few months have been full of ups and downs. I've had more good days, now, but also some pretty low ones. It is to be expected, and is part of the healing process. Still, I wish it didn't hurt so much. Sometimes, I don't know why, I find it a little comforting to sing this little song from Disney's "Robin Hood." Perhaps it reminds me that maybe it's not all that bad. I certainly don't live in Nottingham.
Not in Nottingham

Every town
Has its ups and down
Sometime ups
Outnumber the downs
But not in Nottingham
I'm inclined to believe
If we were so down
We'd up and leave
We'd up and fly if we had wings for flyin'
Can't you see the tears we're cryin'?
Can't there be some happiness for me?
Not in Nottingham

A friend at work summed it up too well today when she said that her little girl lights up her life. That's it, that's exactly what I am missing, something to light up my life. I have lost that spark, that something special that makes me smile every day, through all my troubles and frustrations. I have to find it again. Perhaps that is why I dug so deeply into shooting, perhaps it gave me something to focus and obsess over, and now something to try and excel at. I think now that I should carry on, and keep working on learning to shoot well. Live it, breathe it, make it fill that terrible empty hole, sucking away all happiness.

I think I do fairly well, actually. Most folks I talk to herald me as the next Annie Oakly. Well now, I wouldn't go that far, not yet. give me time, and maybe I might get there. I have a long way to go yet. I should look her up, and see if we might not be related after all. I do come from pioneer stock, you never know. I am really digging into shooting smallbore, a particular sport commonly known as 3P, or three position smallbore. Prone, kneeling, and offhand, if you are shooting an international match, or prone, sitting, and offhand if it's an NRA match. Both are fun, none around here in less than two hours' drive. Ugh, the things I'll do.... A new friend in the rifle club, Dean, is letting me shoot with the juniors league, and has invited me to a prone only match at the end of April. Because it is so close, we are focusing on prone only, for now. Later he'll walk me through the other three positions, and get me going. Work went psycho a couple months ago, and we've been working ten hour days, six days a week. That's been cutting deeply into my practice time, but it's been helping me get my gear faster. A fancy shooting jacket, a fancy mat, even a specialized glove to protect the left hand from the sling. Oh, yes, I NEED that glove, trust me. One by one I've been getting the pieces, and borrowing others until I can afford my own. I have a great looking jacket on order, hopefully it comes in soon. Backorder sucks, grrrrr.
Here I am trying out a shooting jacket borrowed from the juniors. Across the shoulders it fit great, but across the bust? Nope. It worked fine for prone, and really proved a point to me, that I really need to get the proper equipment, right away. Can you believe that that glove is a small? It's HUGE! I think somebody messed up. I have since then cut the fingers off, so that I can attach and remove the sling more easily.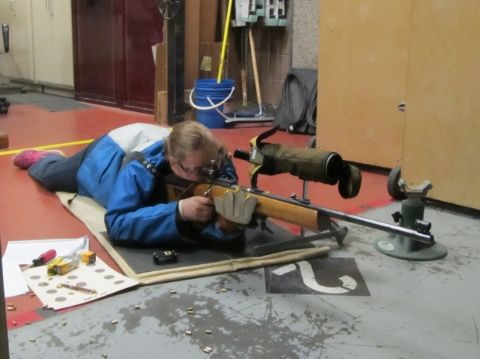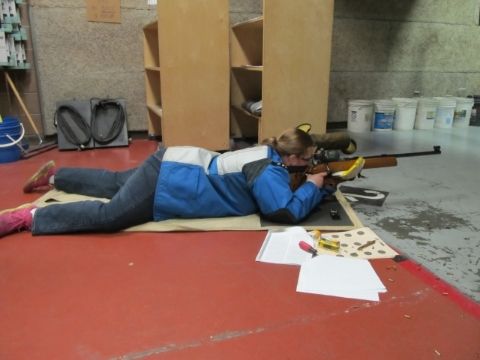 In comparison, here I am, trying out a H&R MP 12, slightly modified. Heavy sucker! That's my stupid green jacket that doesn't fit at all. It's baggy, and causes nearly more headache than it's worth, except that I need it's padding to protect my elbows and left arm.
This is what all of that effort is worth. Not all tens yet, though I keep sneaking up on them. My friends want to call me "Dead Eye Taylor." I won't l won't let them, not yet. I told them that when I can fill that target with tens shooting offhand, then they may.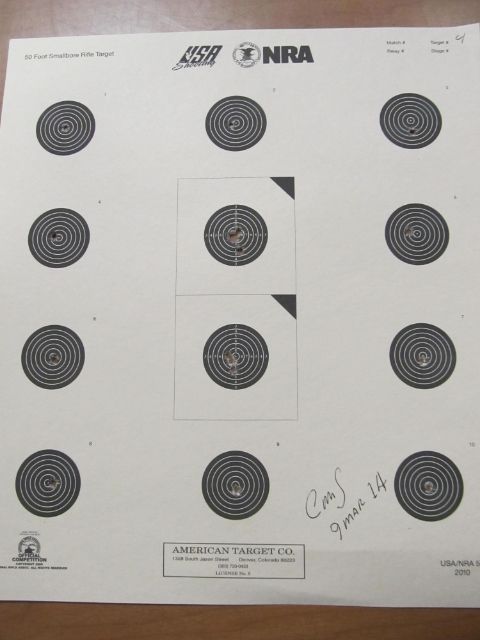 Ohhh, did I give you an earworm earlier? Here's a better one.


In : Life, the Universe, and Everything in Between